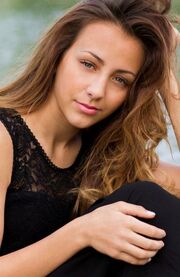 Marinela Ivanovich
 (born in February 2, 1992) is an Serbo-Croatian actress and singer, she is the best known as the voice of Disney movies and many others in the Serbo-Croatian dub.
Voices Roles
Edit
Alice in Wonderland (1951) - Alice (Speaking & singing) (2011 Serbo-Croatian dub)
Peter Pan (1953) - Wendy (Speaking & Singing) (2013 Serbo-Croatian dub)
Brave (2012) - Merida
The Croods (2013) - Eep
How to train your Dragon (2010) - Astrid (2014 Serbo-Croatian dub)
How to train your Dragon 2 (2014) - Astrid
How to train your Dragon 3 (2019) - Astrid
Home (2015) - Tip Tucci
The Black Cauldron (1985) - Eilonwy
Zootopia (2016) - Judy Hopps
Ralph Breaks the Internet (2018) - Merida
Auditions
Edit
Frozen - Anna, But she rejected her role, because in other countries like Brazil and Spain they had 2 voices for Anna, one for speaking and the other for singing and in the Catalan version of this film she only had one (Paula Ribó) and she was replaced by Labina Paraminski.
Community content is available under
CC-BY-SA
unless otherwise noted.